Development

A photo of a model labeled F-60 was posted on the Internet in September 2011.[10] In June 2012, photos and camera video clips started to emerge on internet about a heavily overwrapped possible F-60 prototype being road-transferred on a highway, earning the nickname "the zongzi plane" (粽子机) among Chinese netizens, though some suspect it of merely being a L-15 trainer aircraft.[11] Pictures of a possibly fully assembled aircraft parking on an airfield emerged on September 15–16, 2012. The F-60 is reported to be the export version, where the J-31 would be the domestic Chinese version of the same fighter Chinese aviation expert Xu Yongling has called the J-31 an export-oriented low-end latest generation warplane.

Flight testing

The prototype conducted a high-speed taxiing test and briefly became airborne. On 31 October 2012, prototype No. 31001 conducted the model's maiden flight., It was accompanied by two J-11 fighters in a ten-minute test flight with its landing gear lowered.

With the maiden test flight of the prototype No.31001 on October 31, 2012, China became the second nation after the 1991 Advanced Tactical Fighter fly off, to have two stealth fighter designs in field-testing at the same time,The aircraft has continued a limited test program, with footage emerging of further flights which took place in February 2013.

Public unveiling

A 1/4 scale model of the J-31 was shown at the China International Aviation & Aerospace Exhibition 2012, hinting at a desire to offer the aircraft for export, as an alternative for those countries that cannot purchase the F-35.

The J-31 airframe was publicly unveiled on November 12, 2014 at Zhuhai Airshow.[22][23] In TV broadcast of the unveiling, AVIC chairman Lin Zuoming claimed that funding for the aircraft came entirely from the company, with no input from military

As typical in flight displays of fighter jets, afterburners were engaged throughout the maneuvers. Nevertheless, Western media claimed it to be evidence of aerodynamic inefficiencies, concluding that the aircraft "bleeds a lot of energy and the pilot had a hard time keeping the nose up." Flights were done when the jet was "clean," so results would be worse when fitted with a combat loadout. However, a large-scale model of the FC-31 on display did show some detail changes of configuration compared to the flying prototype.

At the 2015 Dubai Airshow, AVIC released more details regarding the aircraft's capabilities. The company revealed it is still looking for a partner in the aircraft project, and is actively marketing the aircraft to People's Liberation Army Air Force. AVIC's plan is to have a production model first flight by 2019.

Future[edit]
Due to mixed reports from China, it is unknown as to whether the J-31 will be inducted as a naval fighter, or only intended for foreign customers. In one interview with China's state media, the J-31's chief designer Sun Cong expressed his hope that the aircraft would follow his J-15 onto China's aircraft carriers.However, officials from AVIC only said that the aircraft was intended for export as a competitor to the F-35

Pakistan is reportedly interest in acquiring 30 to 40 of these aircraft. While the J-31 has been touted as a rival to the American F-35 in the export market, it remains to be seen how successful this will be. With the exception of Pakistan, China does not share the same kind of strategic relationships that the U.S. does—countries that are both willing and can afford to purchase the aircraft

New scaled models displayed at the Zhuhai Airshow revealed several planned differences from the 31001 flying prototype. The differences include a stealthier cockpit, a next-generation helmet mounted sight, holographic cockpit displays, EOTS, aerodynamic revisions and more powerful engines.

Design

J-31 in-flight

J-31 incorporates certain stealth characters such as forward swept intake ramps with diverterless supersonic inlet (DSI) bumps and a two-piece canopy.

Airframe

The J-31 is smaller than the Chengdu J-20. The use of twin-wheel nose landing gear led to speculations that the J-31 may intended to be a carrier based fighter.[39][40][41] Bill Sweetman has cited several improvements to the F-35C design files the Chinese may have acquired in the J-31.[42] Like the F-35, the J-31 has two internal weapons bays that can each carry two medium range missiles, along with two heavy hardpoints and one light hardpoint on each wi" />
Chinese Stealth Fighter J-31 歼-31 鹘鹰 Air Show,(2014 | Godialy.com
Chinese Stealth Fighter J-31 歼-31 鹘鹰 Air Show,(2014 | Godialy.com - The Shenyang J-31,(or FC
Chinese Stealth Fighter J-31 歼-31 鹘鹰 Air Show,(2014 | Godialy.com The Shenyang J-31,(or "FC-31 fifth Generation Multi-Purpose Medium Fighter")[6] also known as the "Gyrfalcon" (鹘鹰), or "Falcon Hawk" by some military enthusiasts,[7][8] is a twin-engine, mid-size fifth-generation jet fighter currently under development by Shenyang Aircraft Corporation. The fighter has also been referred to as the "F-60" or "J-21 Snowy Owl" (雪鸮) in some media report

Development

A photo of a model labeled F-60 was posted on the Internet in September 2011.[10] In June 2012, photos and camera video clips started to emerge on internet about a heavily overwrapped possible F-60 prototype being road-transferred on a highway, earning the nickname "the zongzi plane" (粽子机) among Chinese netizens, though some suspect it of merely being a L-15 trainer aircraft.[11] Pictures of a possibly fully assembled aircraft parking on an airfield emerged on September 15–16, 2012. The F-60 is reported to be the export version, where the J-31 would be the domestic Chinese version of the same fighter Chinese aviation expert Xu Yongling has called the J-31 an export-oriented low-end latest generation warplane.

Flight testing

The prototype conducted a high-speed taxiing test and briefly became airborne. On 31 October 2012, prototype No. 31001 conducted the model's maiden flight., It was accompanied by two J-11 fighters in a ten-minute test flight with its landing gear lowered.

With the maiden test flight of the prototype No.31001 on October 31, 2012, China became the second nation after the 1991 Advanced Tactical Fighter fly off, to have two stealth fighter designs in field-testing at the same time,The aircraft has continued a limited test program, with footage emerging of further flights which took place in February 2013.

Public unveiling

A 1/4 scale model of the J-31 was shown at the China International Aviation & Aerospace Exhibition 2012, hinting at a desire to offer the aircraft for export, as an alternative for those countries that cannot purchase the F-35.

The J-31 airframe was publicly unveiled on November 12, 2014 at Zhuhai Airshow.[22][23] In TV broadcast of the unveiling, AVIC chairman Lin Zuoming claimed that funding for the aircraft came entirely from the company, with no input from military

As typical in flight displays of fighter jets, afterburners were engaged throughout the maneuvers. Nevertheless, Western media claimed it to be evidence of aerodynamic inefficiencies, concluding that the aircraft "bleeds a lot of energy and the pilot had a hard time keeping the nose up." Flights were done when the jet was "clean," so results would be worse when fitted with a combat loadout. However, a large-scale model of the FC-31 on display did show some detail changes of configuration compared to the flying prototype.

At the 2015 Dubai Airshow, AVIC released more details regarding the aircraft's capabilities. The company revealed it is still looking for a partner in the aircraft project, and is actively marketing the aircraft to People's Liberation Army Air Force. AVIC's plan is to have a production model first flight by 2019.

Future[edit]
Due to mixed reports from China, it is unknown as to whether the J-31 will be inducted as a naval fighter, or only intended for foreign customers. In one interview with China's state media, the J-31's chief designer Sun Cong expressed his hope that the aircraft would follow his J-15 onto China's aircraft carriers.However, officials from AVIC only said that the aircraft was intended for export as a competitor to the F-35

Pakistan is reportedly interest in acquiring 30 to 40 of these aircraft. While the J-31 has been touted as a rival to the American F-35 in the export market, it remains to be seen how successful this will be. With the exception of Pakistan, China does not share the same kind of strategic relationships that the U.S. does—countries that are both willing and can afford to purchase the aircraft

New scaled models displayed at the Zhuhai Airshow revealed several planned differences from the 31001 flying prototype. The differences include a stealthier cockpit, a next-generation helmet mounted sight, holographic cockpit displays, EOTS, aerodynamic revisions and more powerful engines.

Design

J-31 in-flight

J-31 incorporates certain stealth characters such as forward swept intake ramps with diverterless supersonic inlet (DSI) bumps and a two-piece canopy.

Airframe

The J-31 is smaller than the Chengdu J-20. The use of twin-wheel nose landing gear led to speculations that the J-31 may intended to be a carrier based fighter.[39][40][41] Bill Sweetman has cited several improvements to the F-35C design files the Chinese may have acquired in the J-31.[42] Like the F-35, the J-31 has two internal weapons bays that can each carry two medium range missiles, along with two heavy hardpoints and one light hardpoint on each wi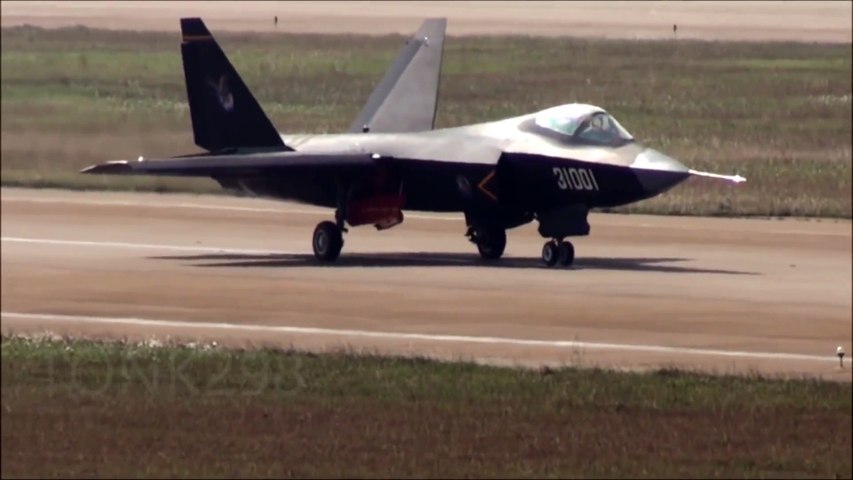 Chinese Stealth Fighter J-31 歼-31 鹘鹰 Air Show,(2014
PLEASE NOTE Our Website Godialy.com won\'t respond to any video. We just sharing in Entertientment only.
The Shenyang J-31,(or "FC-31 fifth Generation Multi-Purpose Medium Fighter")[6] also known as the "Gyrfalcon" (鹘鹰), or "Falcon Hawk" by some military enthusiasts,[7][8] is a twin-engine, mid-size fifth-generation jet fighter currently under development by Shenyang Aircraft Corporation. The fighter has also been referred to as the "F-60" or "J-21 Snowy Owl" (雪鸮) in some media report

Development

A photo of a model labeled F-60 was posted on the Internet in September 2011.[10] In June 2012, photos and camera video clips started to emerge on internet about a heavil...
Tags:
Chinese
Stealth
Fighter J-31
Air Show
2014
Copyright © 2020
GoDialy
All Rights Reserved.