This is just for fun and because we love Super Junior and Kpop.
We hope you have fun watching it, like we had recording it!!!
If u're gonna said something like "WTH!!! That's pitifull, you might me ashame of that..." or something like that, just don't waist your time writing it 'cause I'm going to delete the comment.
En español, los comentarios del palo "No se como no os da vergüenza hacer esto..." os los podeis ahorrar por que los voya borrar. Esto es para divertirnos, si no os gusta no mireis.

Visit our cyworld: http://us.cyworld.com/SuPus
Or join to our club:
club.us.cyworld.com/cosplaySuPuS

Our Cosplays:

TVXQ Balloons's cosplay:
http://www.youtube.com/watch?v=9oJEUiVK8Ug
Super Junior Rokkuko's cosplay:
http://www.youtube.com/watch?v=Qfh6BoiVvZM
SuJu Dancing out cosplay (preview):
http://www.youtube.com/watch?v=4CNEpKlGsJs
Super Junior U cosplay:
http://www.youtube.com/watch?v=BNriGAuzhAk
Sunkist Kangin Heechul fanmade version:
http://www.youtube.com/watch?v=mh2XroytbVs
Super Junior U Remix:
http://www.youtube.com/watch?v=ojfsfTh0xvs
Super Junior,Don't Dont: *private video*
Preview SuJuH Cooking? Cooking!:
http://www.youtube.com/watch?v=VDY7LSgYbRc
Super Junior Happy, Cooking? Cooking! (Whole MV):
http://www.youtube.com/watch?v=ZslZYg-UCDk
MNet TOP10 parody:
http://au.youtube.com/watch?v=ltoIlbnHWow

Spanish Fanclub TVXQ forum:
http://www.spftvxq-forum.com/" />
~Fanmade Super Junior H ~ Cooking? Cooking! ~ | Godialy.com
~Fanmade Super Junior H ~ Cooking? Cooking! ~ | Godialy.com - This is a cosplay parody
~Fanmade Super Junior H ~ Cooking? Cooking! ~ | Godialy.com This is a "cosplay parody" of Super Junior H's Cooking? Cooking!
This is just for fun and because we love Super Junior and Kpop.
We hope you have fun watching it, like we had recording it!!!
If u're gonna said something like "WTH!!! That's pitifull, you might me ashame of that..." or something like that, just don't waist your time writing it 'cause I'm going to delete the comment.
En español, los comentarios del palo "No se como no os da vergüenza hacer esto..." os los podeis ahorrar por que los voya borrar. Esto es para divertirnos, si no os gusta no mireis.

Visit our cyworld: http://us.cyworld.com/SuPus
Or join to our club:
club.us.cyworld.com/cosplaySuPuS

Our Cosplays:

TVXQ Balloons's cosplay:
http://www.youtube.com/watch?v=9oJEUiVK8Ug
Super Junior Rokkuko's cosplay:
http://www.youtube.com/watch?v=Qfh6BoiVvZM
SuJu Dancing out cosplay (preview):
http://www.youtube.com/watch?v=4CNEpKlGsJs
Super Junior U cosplay:
http://www.youtube.com/watch?v=BNriGAuzhAk
Sunkist Kangin Heechul fanmade version:
http://www.youtube.com/watch?v=mh2XroytbVs
Super Junior U Remix:
http://www.youtube.com/watch?v=ojfsfTh0xvs
Super Junior,Don't Dont: *private video*
Preview SuJuH Cooking? Cooking!:
http://www.youtube.com/watch?v=VDY7LSgYbRc
Super Junior Happy, Cooking? Cooking! (Whole MV):
http://www.youtube.com/watch?v=ZslZYg-UCDk
MNet TOP10 parody:
http://au.youtube.com/watch?v=ltoIlbnHWow

Spanish Fanclub TVXQ forum:
http://www.spftvxq-forum.com/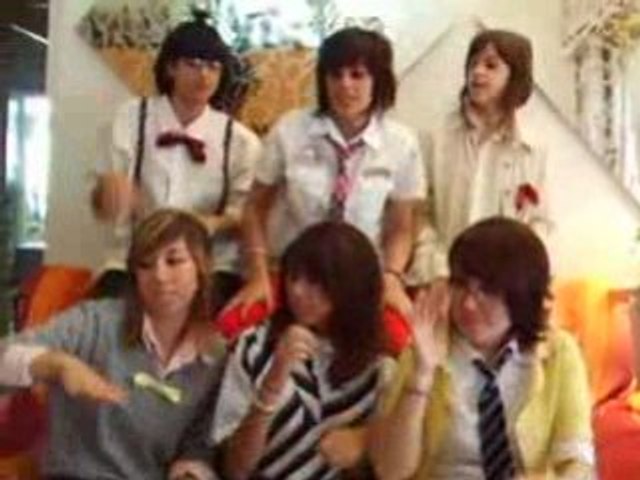 ~Fanmade Super Junior H ~ Cooking? Cooking! ~
PLEASE NOTE Our Website Godialy.com won\'t respond to any video. We just sharing in Entertientment only.
This is a "cosplay parody" of Super Junior H's Cooking? Cooking!
This is just for fun and because we love Super Junior and Kpop.
We hope you have fun watching it, like we had recording it!!!
If u're gonna said something like "WTH!!! That's pitifull, you might me ashame of that..." or something like that, just don't waist your time writing it 'cause I'm going to delete the comment.
En español, los comentarios del palo "No se como no os da vergüenza hacer esto..." os los podeis ahorrar por que los voya borrar. Esto es para divertirnos, si no os gusta no mireis....
Tags:
Fanmade
Super
Junior
Happy
Preview
Eeteuk
Kangin
Kangteuk
Yesung
Sungmin
Eun
SPfTVXQ
SuJu
TVXQ
Big
Bang
Shinhwa
SS501
Copyright © 2020
GoDialy
All Rights Reserved.